elzkitten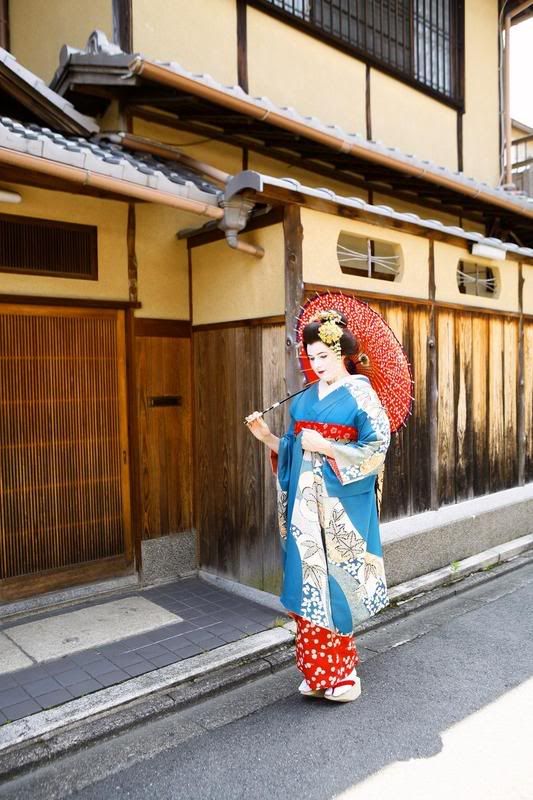 Greetings fair journal readers! I apologize for the false promises of Thailand updates. I've been very busy getting ready to come home, and the Thailand updates have been shoved to the back burner of my neighbor's cousin's vacation house. However, in a rare fit of updating fun I bring you my weekend!
This past Sunday (6/15) Laura and I headed on out to our favorite city, Kyoto. We were in search of something I had heard about and had always wanted to try: Nagashi somen. Somen is a type of noodle, and nagashi is a style you eat it. Somen is usually eaten in the summer cold with a light broth, and it's a favorite of mine. The nagashi part means that it's delivered to you by means of a bamboo tube and a current of water! You wait at a place on the counter for the noodles to go shooting down and you catch them with your chopsticks, dip them into your sauce and enjoy!
Laura found a good looking place in Kibune (a bit North of Kyoto) and we had a blast catching them and not only were we eating nagashi somen, but we were doing it on top of a river!!! It was the coolest eating experience ever. Anyone who's been to Japan in the summer can attest to the severe heat, and so the river really helps provide a natural air conditioning. I don't want to think about how many bugs would be there at sunset, but for a lunch treat, it was very reasonably priced (about 1,200 yen) and relatively bug free.
We traveled back down to Kyoto and met up with Elysaar around Sanjo in Kyoto. We wandered around a bit looking at the markets and shops. Then we decided to enjoy some more cheap kaiten zushi (conveyorbelt sushi) and then headed over to our new favorite parfait store.
The store has over 150 parfaits! Elysaar and I enjoyed translating the sometimes useless descriptions. I finally decided on a raspberry chocolate parfait. It was heavenly!
We retired to our very nice hostel. It was more like a hotel than any hostel I've ever seen or heard of.
Here are the pictures (and a cool video of the noodles):

http://picasaweb.google.com/Elzkitten/KibuneAndKyoto2008_06_15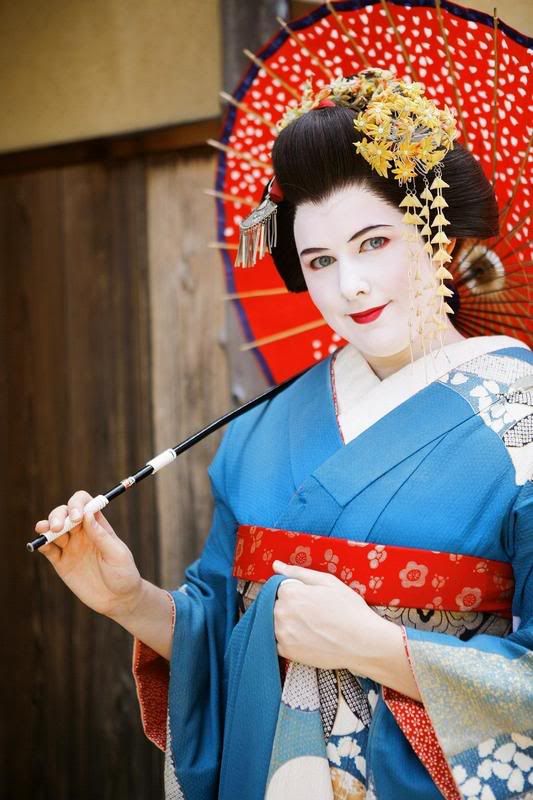 After having a Sunday dedicated to delicious, and less common food, we woke up on Monday for another taste of adventure!
Laura, Becky, and I had taken maiko photos on one of our first trips to Kyoto, and it was a lot of fun, but Laura and I both kinda wanted to try it again with a different studio. Being the amazing weekend planner that she is, Laura found and made reservations at a really cool, professional studio that included a professional photographer with the package that let you go outside. So we arrived at the studio at around 10 after a light breakfast.
They have you change into a undershirt/dress thing and white socks that have the big toe separate. (Kinda like basic toe socks) Then they put the make up on, they put the kimono on, and then a wig. The whole dressing process takes about an hour or so. Then we got to wander around with the professional photographer for a bit. After they were done we had a half an hour to wander around and take our own pictures, as well as pose with other tourists. It was fun having our pictures taken with so many Japanese tourists. I guess a tall, blue-eyed maiko isn't exactly a common sight! We had so much fun wandering around in our platform sandals. I was a bit afraid I'd topple over, but I managed it ok. The photos came out great and it was totally worth it!
The makeup is removed with baby oil! Then after it's all off you wash with facial soap. I still feel like my face is recovering from the whole process, but it was worth it!
Then we wandered around a bit, had an amazing tofu lunch, and then some kinako ice cream. I was dead tired from walking around in the shoes, and from walking around the whole place in normal shoes. So we decided to head on home.
This weekend was probably my last in Kyoto until I come back in the far more distant future. It's an amazing city, and I'll miss having it just one short 35 minute shinkansen stop away from my home city.
Enjoy the pictures!!!

http://picasaweb.google.com/Elzkitten/Kyoto2008_06_16